THE TOUR LEVELS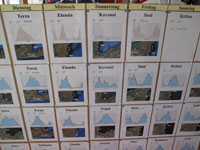 Outside the reception you will find an information board with all the tour profiles and maps. We do 2 to 4 levels daily (including Saturdays and Sundays).
Each guest can then choose, on the eve of the tour, the tour that best suits him to meters of elevation, kilometers and difficulty. The different levels meet up with each other most afternoons for a swim in a beautiful bay.
So, if one chooses a different level to ones partner/colleague you are not separated all day, you will meet each other later on the tour, so will still enjoy a nice day together.