THE TOUR LEVELS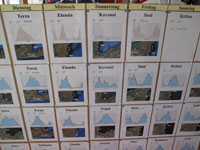 At the front desk is a clear table with all the tour profiles and maps. Daily (also Saturdays and Sundays) 2 - 4 different tour levels are driven. Each guest can decide on the evening before for the tour which best suits him on kilos and heights.
Great advantages with our tour organization of MARTINBIKE:
The different levels usually meet at midday or swim in beautiful bays. If the one chooses a stronger level than his partner / in or colleague, one is usually not separated all day but meets on the way and has thus a different holiday day in spite of different skills.
You can change the level. The one have good persevering condition, one can thus Zb. also level blue, black with the more demanding altitude meter for the uphill routes - for downhill you can then change for the easier descents to level green ... Or you have not so the sporty condition for the uphill ride - you can so the altitude of Level green - downhill then the challenging trails drive from level blue or even level black.