ROAD BIKE HOLIDAY
You start your wonderful bike-tours from the hotel. In every direction you will find low-traffic roads (good to very good condition), you will ride through old villages, lonely mountainous regions, green pine forests and olive groves.
Again and again you have fantastic views over the Mirabello bay, with her large number of islands. Even the south coast, such as Ierapetra, or Sitia to the east, or the Lassithi Plateau are easy to reach. The tour around the Dikti mountains is our ultimate tour.
Pricelist for Road Bike Holidays
Sunlight Hotel with Road Bike Package (26 March - 8 November 2017)
7 nights in hotel room with large balcony and breathtaking panoramic sea view, daily maid service, laundry service for bike clothing, beach / bath towel, free WIFI, safe, phone
Welcoming aperitif drink with tour information, map of Crete, postcards
7 biker sports breakfasts: buffet breakfast, Fresh fruit salat – plates of fruits, cheese & meat, big choise of bread, Bircher Muesli self made
Bananas and granola bars for snacks to take away on trips
*Airport transfer (Heraklion Airport)
Yoga (especially for bikers)
Road bike package: 6 days bike rental including daily bike service and cleaning, Map with elevation and route information.
Care of MARTIN BIKE team (discount for bringing your own bike - 50€, including airport transfers for your bike)
Price per Person
1 Week Biking Holiday
Double Room (Sea View) with Breakfast and Airport Transfer
and Road Bike Pack
Extension
Day/Week
Breakfast
Single Room
Day/Week
Double Room for single use
Day/Week
3 Bed Room
Day/Week
532€
38€ / 266€
14€ / 98€
20€ / 140€
8€ / 56€
NEW ROOM: Completely renovated, with new bathroom to reserve in advance. Charge is 8€ per day/double occupancy 5€ per person/day. From the Booking Form you can specify your room requirements.
DINNER: Half board with drinks - 139€

7 very good dinners including drinks in the hotel's taverna. The meal will be served. Varied menu - various appetizers, salads, main courses (also vegetarian), desserts, fruits, white/ red wine (very good Cretan wine), table water and raki. (Individual dinner including drinks 21€) (For groups of more than 5 persons can book only with dinner included)
*AIRPORT TRANSFER Late arrival and late dinner service: Guests arriving with arrival time according to booked flight schedule after 20:00 will get the taxi service we organize. Also in the hotel for the late guests a fine warm dinner is served until 23:30h This is charged with a surcharge of 20 euros per person.
*AIRPORT TRANSFER Early Departure: Guests must be brought before 07:00 in the morning to the airport, get the best taxi service that we organize and this will be charged with a supplement of 20 euros per person. Guests get a buffet lunch.
You can book additional mountain bike tours and bike rental. Additional mountain bike/road bike to bike package booked from 18/20€ (Standard-Bike) per day.
Family rooms/price for families with children: The hotel has adjoining rooms connected by the balcony, perfect for families – we will make a special family offer.
Economy discount: Rooms without sea view/half maid service/please enquire.
Bike rental see "Our Bikes"

Standard: included in the road bike package
- SCOTT SPEEDSTER S20
Carbon cycling charge 50€ additional to road bike package
- SCOTT CR1 Pro, Carbon
Please do not forget your own pedals!!!
Example routes:
Bike tour "Elounda"
- about 60 km, 1000 Altitude, Duration: 3 Hours
Endurance:
Technical requirements:

Bike tour "Lassithi"
- about 110 km, 1.950 Altitude, Duration: 5 Hours
Endurance:

Technical requirements: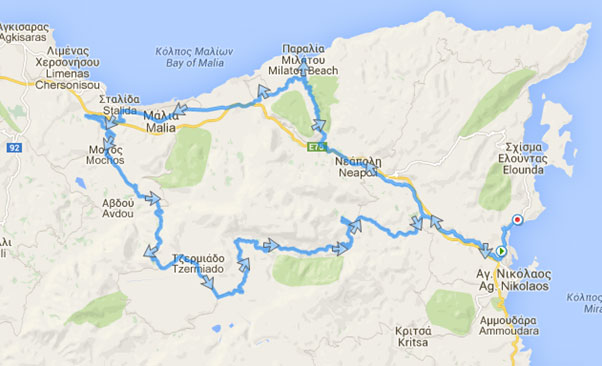 Bike tour "Myrtos"
- about 116 km, 1.900 Altitude, Duration: 5 Hours
Endurance:

Technical requirements: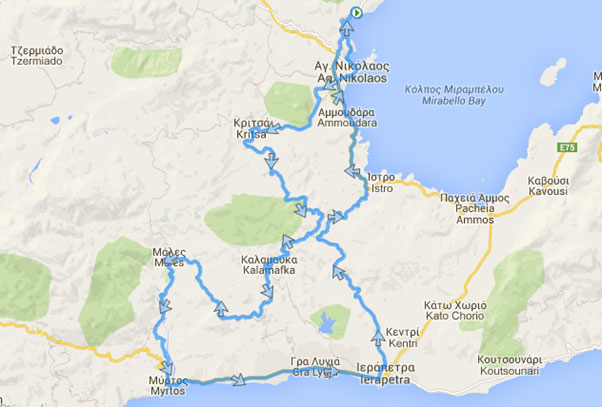 Bike tour "Sissi"
- about 70 km, 850 Altitude, Duration: 3,5 Hours
Endurance:
Technical requirements: