ROAD BIKE HOLIDAYS
Season: 9th of April till end of November
PROGRAMM Road Bike Holidays in Martinbike Beach Hotel
7 nights in a family 4-star hotel right on the sandy beach of Ammoudara, double room with kitchenette, balcony, daily room service, hotel cosmetics, laundry service for bike clothing, WIFI, TV, AIRCONDITION heating/cooling. Pool area, access to the beautiful fine sandy natural sandy beach, loungers and parasols for free for Martinbike guests.
Welcome info drink, tour briefing, Crete map
7 biker sports breakfasts: rich breakfast buffet, with athletes Bircher muesli, freshly squeezed orange juice, banana and muesli bars to take away on tours
7 x dinner in a nice taverna, depending on the weather also beach taverna directly at the sea. Reserved tables for Martinbike with friendly service in a family atmosphere. Fine Cretan cuisine is freshly prepared. Various salads and Greek starters, daily specials, fruits and desserts.
Direct Airport Transfer Roundtrip - (HERAKLION) Flight Confirmation
YOGA lesson included (especially for cyclists and bikers). More yoga, massage, snorkeling. Canoeing, diving, water sports, hiking can be booked locally for a fee.
Racing bike package: 6 days very good rental racing bike, aluminum Speedster Shimano 105, 11-32, incl. daily bike service and final cleaning, map with tours marked, altitude diagrams, information for the racing bike tours. GPS data,
Upgrade to Carbon CR1 70 euros, to Carbon Addict 10 100 euros and to Carbon Addict 20 Disc model 2023 150 euros.
Infrastructure bike support service & guest care MARTINBIKE TEAM in the bike hotel
April and May / September and October. including additional road bike guide support and the opportunity to take part in at least 3 guided road bike tours. (June to August reduction €40 as there are no guided tours)
DOUBLE ROOM with balcony
(per person/week)
EXTRA DAY (per person incl. rental bike)
(biker breakfast, dinner and Martinbike service included)
DOUBLE ROOM FOR SINGLE USE with balcony
(Week)
EXTRA DAY (per person incl. rental bike)
(biker breakfast, dinner and Martinbike service included)
3 BED SUPERIOR ROOM with balcony, 2 single beds and sofa bed
(per person/week)
EXTRA DAY (per person incl. rental bike)
(biker breakfast, dinner and Martinbike service included)
Seasonal surcharge 01/06 – 20/06 & 21/09 - 30/09
Double Room €14 per person/day
Double Room for single use €22
Superior Room €20 per person/day
Seasonal surcharge 21/06 - 19/07 & 27/08 – 20/09
Double Room €24 per person/day
Double Room for single use €40
Superior Room €29 per person/day
Seasonal surcharge 20/07 - 26/08
Double Room €36 per person/day
Double Room for single use €67
Superior Room €48 per person/day
PROGRAM MOUNTAIN BIKE HOLIDAYS in Martinbike River Hotel
80 meters from the beautiful Almiros Beach and 600 meters from Martinbike Beach Hotel. Dinner possible in both hotels. Martinbike organizes the pick up shuttle service for the tours. Cheaper in the summer season.
Seasonal surcharge 01/06 – 30/06 & 01/09 - 30/09
Double Room €6 per person/day
Double Room for single use €11
Seasonal surcharge 01/07 - 31/08
Double Room €11 per person/day
Double Room for single use €22
April, May, October, November is the same price as Martinbike Beach Hotel.
PROGRAM MOUNTAIN BIKE HOLIDAYS in Family Hotel Village Elounda
Especially suitable for families who want children's entertainment and water park. Please ask for an offer!
Holidays in VILLA SILLAS at MARTINBIKE Trailcenter
We are happy to book a transfer/rental car and bike program as well.
Beautiful, very quiet guest house, space for up to 4/5 people 125 euros per day plus 10 euros per person/day.
Season surcharge at Villa Sillas June and September
20 euros per day whole villa
Season surcharge at the Villa Sillas guest house * July and August
40 euros per day whole villa
EXTRA
Late transfer
20€


Late Transfer Service - Arrival time at the airport after 7.30pm
Early Transfer
20€


Early Transfer Service - Transfer to the airport before 7.00 am
Road Bike Tour "Lassithi plateau"
A very beautiful and demanding tour with a long climb to the world-famous Lassithi plateau, breathtaking views and a long descent to the north coast. Then on the beautiful "old road" back to the bike hotel Amoudara
Distance: 117 km
Duration: 5-6 Hours
Altitude: 2100m
Endurance:
Technique: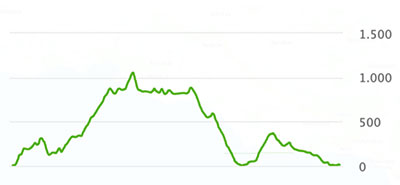 Road Bike Tour "Sitia round"
Longer, demanding tour in the southern and northern part of the little-visited East. Wide, well-paved roads with little traffic, past small, typical villages with a beautiful view of the Mirabello Bay.
Distance: 140 km
Duration: 6-7 Hours
Altitude: 2400m
Mit Shuttle ab Pachia Amos
Distance: 90 km
Altitude 1500m
Endurance:
Technique:

Road Bike Tour "Milatos"
An attractive, varied tour to the north coast with moderate climbs on serpentine roads, passage through gorges and return via the "old road" to Agios Nikolaos
Distance: 65 km
Duration: 3-4 Hours
Altitude: 950m
Endurance:
Technique: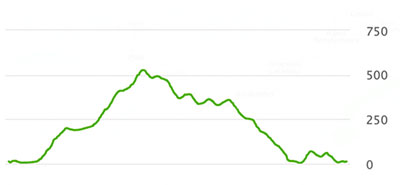 Road Bike Tour "Kritza-Kroustas"
Beautiful, varied tour to retract; first along the coast road and then on mostly deserted roads in the picturesque hinterland of the east coast.
Distance: 40 km
Duration: 2-3 Hours
Altitude: 730m
Endurance:
Technique: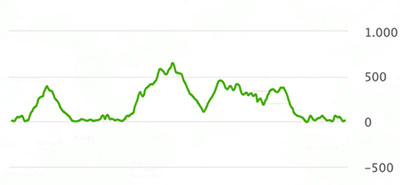 And many more tours with GPS data